The guilty pleasure of a celebrity magazine while getting a pedicure is a delicious moment in the week of many women. Photos that highlight how celebrities are just like us? Lap it up.
The opposite is also true, as the popularity of Lifestyles of the Rich and Famous proved. Thanks to astronomical paychecks, celebrities fund lifestyles that include a fabulous closet, unreal vacations, and stunning homes. Just like the average Joe, celebrities buy real estate. Unlike the average Joe, their homes' price tags have a lot of zeroes.
Curious to know who has the swankiest abodes in the country? From coast to coast, here are ten of the most expensive celebrity homes in the country.
1. Oprah!
No surprise here! This powerhouse continues to be named one of the most powerful and influential women in the world. Giving up her daily talk show hasn't changed that. WIth money being no hurdle, Oprah not only has a Chicago penthouse among her properties, she added a $50 million mansion to her real estate portfolio in 2001.
When it "didn't feel like home," renovations were done — which increased the value to $85 million.
2. Bill Gates
The legend himself not only changed the world with Microsoft, he and his wife Melinda use their fortune to change the world for the better with their philanthropic efforts. With that kind of goodwill, it's hard to find fault with their purchase of the largest private residence in the US. Their fortress, Xanadu, was built for a mere $55 million in Washington state back in 1997.
3. Hugh Hefner
The Playboy Mansion is arguably one of the best-known properties in the world. Like the humble abodes of Bill Gates and Oprah, Hefner's mansion is said to be valued at $50 million.
4. Jerry Seinfeld
On the opposite coast, Jerry Seinfeld is living the dream in the East Hamptons. Removed from the hustle and bustle of NYC, Jerry, Jessica, and the family have a beautiful and impressive retreat they purchased in 2005 for a mere $32 million.
5. Jennifer Aniston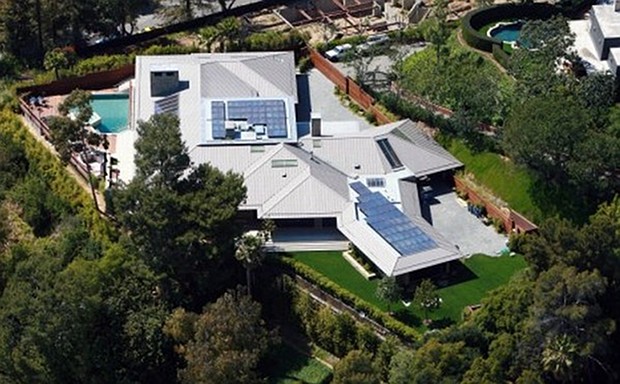 America's Sweetheart spared no expense when acquiring a home for her and Justin Theroux to share in wedded bliss. Opting for a house in Bel Air, the Friends star dropped a cool $21 million.
6. Kim Kardashian and Kanye West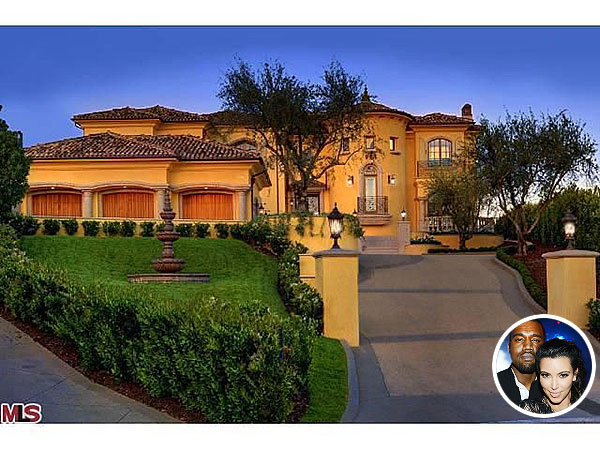 The new parents decided to purchase a home in the prestigious neighborhood of Bel Air as well. Their love nest only cost $11 million, but the modest home should be comfortable for the growing family.
7. Jessica Simpson and Eric Johnson
These young parents also decided it was time to invest in a large Californian property. Their choice? The Hidden Hills estate formerly owned by Ozzy & Sharon Osbourne. The cost? A mere $13 million.
8. Conan O'Brien
Funny-man Conan gets to laugh it up in his $20 million Pacific Palisades place. Jay Leno? NBC? Conan has moved onto living the good life.
9. Gwyneth Paltrow and Chris Martin
When this power couple isn't across the pond living in Chris's native England, they are able to enjoy the sunny shores of California. To make an international lifestyle more comfortable, Gwyneth and Chris purchased a $10.5 million home in Brentwood.
10. Tiger Woods
Also in a sunny clime, Tiger has bounced back from the loss of his home and marriage quite nicely. With his career on the upswing, he is able to enjoy his days off at his $60 million Jupiter estate in Florida.
These household names live extraordinary lives, as their homes reflect. And they live in a fantasy world that keeps us entertained at the nail salon. While the cost is out of the realm of the average American, purchasing a dream home certainly is not.
Let celebrities be the inspiration, not the expectation.
Originally posted on August 16, 2013 @ 1:26 pm