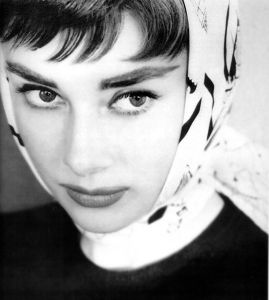 It wasn't just me who was surprised to see the late great Audrey Hepburn on the chain store's latest TV commercial – apparently everyone who saw the ad wondered if it was the icon herself. After all, it was 50 years ago when she looked like that, right?
Anyway, for those who werent exactly sure, the Gap has confirmed that YES, Audrey is indeed the Gap's new model/icon/muse for the re-launch of their skinny black pants. In case you thought Audrey's fashion legacy was only about the little black dress from Breakfast at Tiffany's, she was also someone who looked fabulous in the black cigarette pants and started its trend. So who else could be more perfect?
Only Audrey can get away with dancing to an AC/DC song while still looking chic and stylish and in the ad she masterfully does so, as the character in her film "Funny Face" to the tune of "Back in Black".
For more retro Audrey-mania around the globe, watch out for the black Givenchy dress from Breakfast at Tiffany's as it goes on display at Christie's New York from October 6th-13th. The sale will take place in London on December 5th and is expected to fetch between $94,000 – $132,000. Proceeds will go to the "City of Joy Foundation" to help needy children in India.
[tags]audrey hepburn, the gap, hollywood, skinny pants[/tags]
Originally posted on September 24, 2006 @ 9:38 am