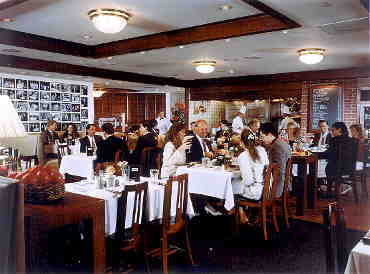 There are easier ways to get pictures of celebrities than to crouch hidden in the bushes. Just go to the restaurants where they hang out. Just be prepared to pay — these celebrity hang outs charge an arm and a leg for their food, though (if you're lucky) the "view" could be excellent.
Some legendary Hollywood hangouts are Chasen's and Spago's. This is where A-list celebrities go for a quick lunch between takes, or meet with reporters for their magazine interviews. Restaurants like Morton's serve as Hollywood's unofficial power center. Here agents, producers, and other deal-makers negotiate million-dollar deals.
Some, such as the Hotel Bel-Air, entice their wealthy celebrity clientele with sheer luxury.
Still others are well-kept secrets; modest, inexpensive places like Nate & Al's Deli or Patrick's Roadhouse, where the stars go simply because they like the food (or the company).
Originally posted on September 24, 2010 @ 11:16 am